A couple of artists with wild the ideas about the materials they use are carving such beautiful naturalistic animals that you won't believe what they are made of.
An incredibly lifelike portrait of a pair of lions in loving embrace is rendered with such elegant detail and finesse that it's hard to imagine they are made of old, used and frayed cardboard packaging.
This strange and baffling juxtaposition between art and the medium chosen by artists – what most people would consider junk – has a sensible, even profound reason behind it.
It makes perfect sense for New York-based artist collaborators Sue Beatrice and Andy Gertler: How to show nature better than using what ails it – landfill waste – and recycling it into something that celebrates its natural beauty? This is recycling at its best. Art with a dialogue.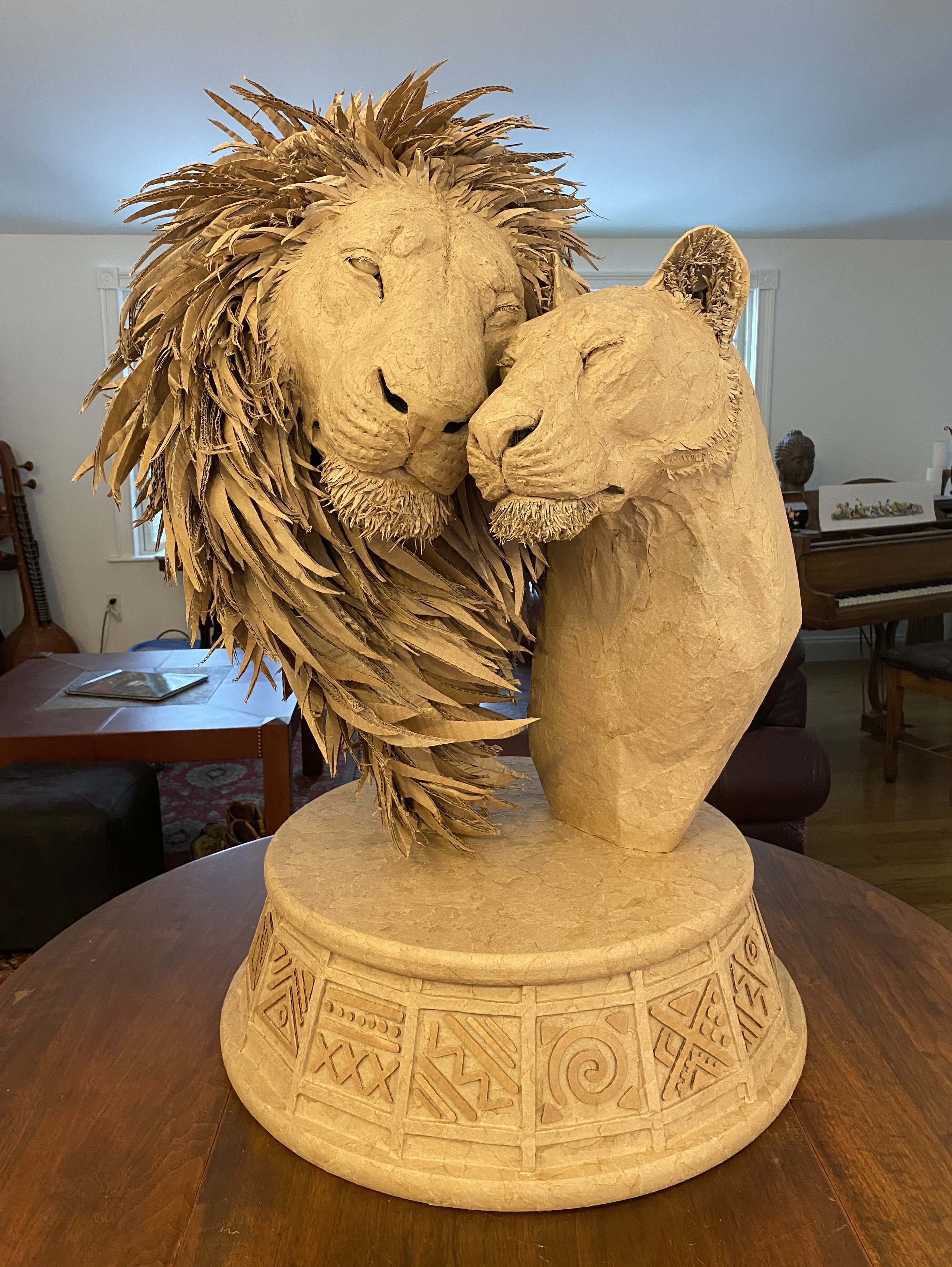 The sculptors told The Epoch Times that their work strives to create the "connection between the fragility of species and the limits of natural resources."
The cardboard allows for a combination of flexibility and strength, as well as a variety of thicknesses and textures, useful for giving the lions their realistic look.
"We use a wide variety of boxes, both single-layer and corrugated, as well as brown paper bags," they said. "Different thicknesses are useful with the stronger sections used as internal supports and the more pliable pieces to form curves like the musculature of animals. We try to make sure the pieces we use are very similar in color for a more cohesive look. "
To join the pieces, they use hot glue guns and a method of cutting and snapping the cardboard together like a puzzle, making it sturdy enough. For the fur, they use thousands of tiny pieces of paper simply attached with Elmer's glue.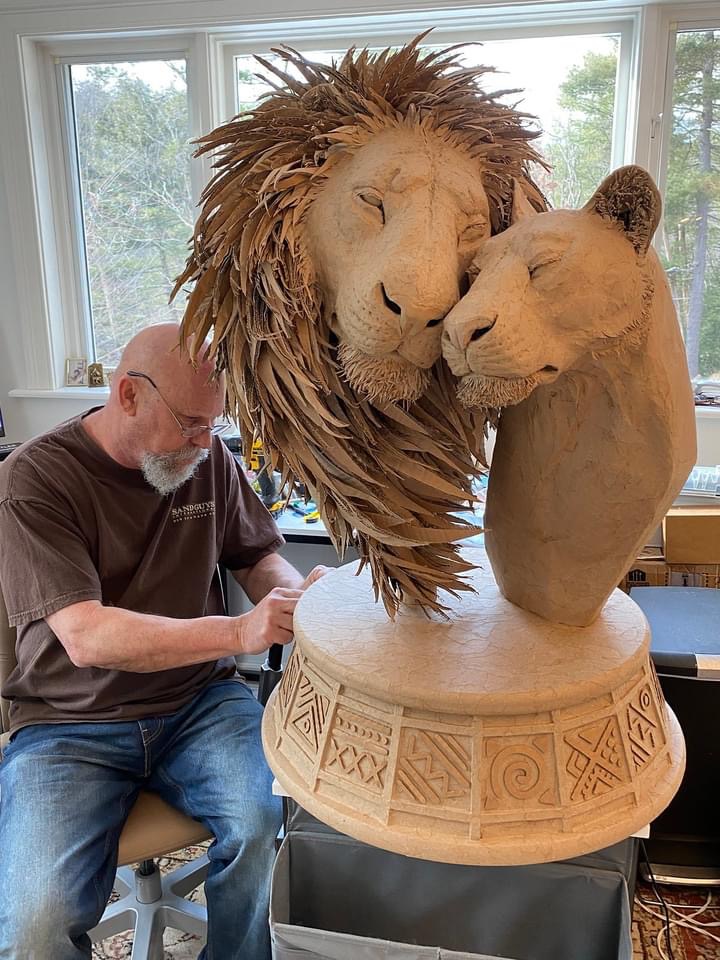 The two lions are also incredibly realistic; both being professional sculptors, the artists are no strangers to anatomical study. Beatrice has worked for Franklin Mint, a toy maker, and for Disney; while Gertler runs a sand and ice sculpture company for Guinness World Records.
They explained how they captured the lion's anatomy so precisely:
"Inside each of the lions is an accurate skull formed from both side and top views," they shared. "We wanted to work life-sized, so we studied the size of the skull and went from there.
"Realism is something we always aim for. We do a lot of research on the anatomy and movements of an animal before we sculpt it. "
But the inspiration behind loving lions is deeper than the cardboard surface and glue they are made of. "We watched some wonderful videos that showed how loving lions could be within pride and led to this touching pose," explained the artists.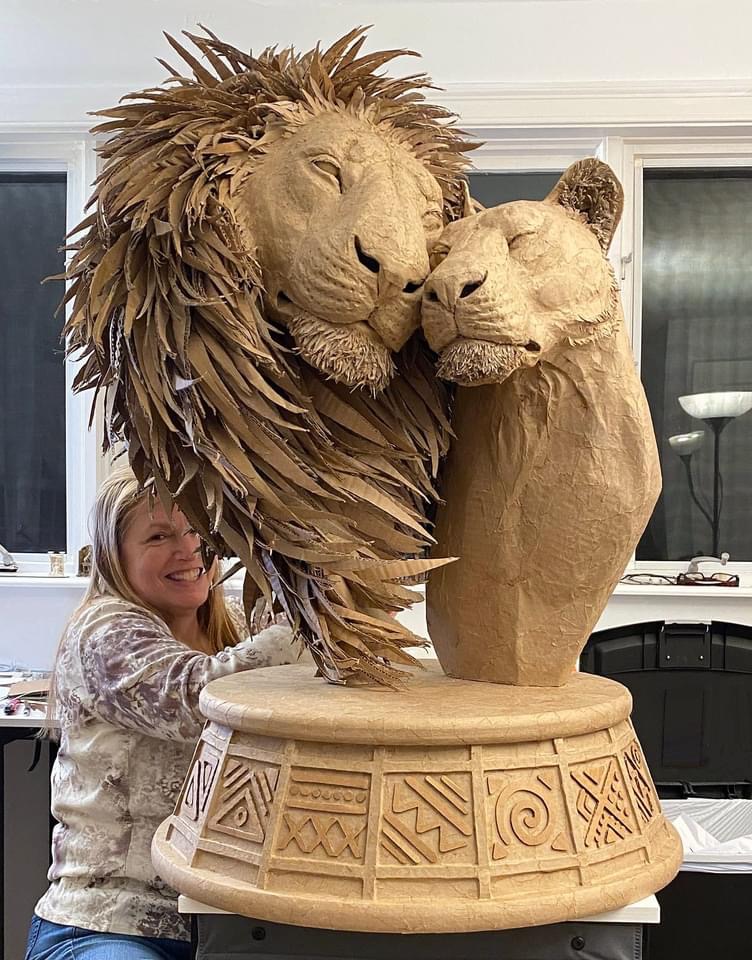 This feline homage to nature is actually the first in a series of African animal portraits that will eventually become a traveling exhibit, or perhaps enter a gallery.
"We are currently creating a life-size baby elephant and have many more pieces planned," said the sculptors. "There are 10 to 12 designs we hope to add. They will all be threatened or endangered animals. This first series will be of African animals ".
Meanwhile, the lions went viral on social media and fans from all over the world searched for the pair of artists to ask how they did it.
Share your stories with us at [email protected] and continue to receive your daily dose of inspiration by signing up for the Inspired newsletter at TheEpochTimes.com/newsletter