---
Enter Wall Street with Street Insider Premium. Request your 1 week free trial here.
---
London, UK – (Newsfile Corp. – June 22, 2022) – Celebrating a crossroads of tradition and technology, contemporary Irish artist Kevin Abosch has teamed up with Japanese sake maker Asahi Shuzo in a unique collaboration. By creating a series of artworks, collectors will have the opportunity to also claim bottles of a limited, exclusive and premium Dassai product produced for the initiative.
The collaboration will see Kevin Abosch create a collection of 1 in 1 unique and original works of art from 1989, the result of the artist's involvement with millions of data relating to both the Dassai sake making process and Asahi Shuzo's values. Inspired by the art of Abosch, Asahi Shuzo will in turn create a corresponding limited series of this specially produced premium sake. Previous limited editions of the brand have been highly sought after, with an 843,750 yen ($ 8,026) bottle up for auction in Hong Kong.
Along with the artworks, these limited edition bottles will be shipped to collectors around the world.
Kevin Abosch – Dassai – Asahi Shuzo – Creative Work Studios
Brand Movie Link: https://youtu.be/ZOx6-VvZIG4
Kevin Abosch – Dassai – Asahi Shuzo – Creative Work Studios
As a renowned contemporary artist, Kevin Abosch embraces both traditional and generative methods and has been exhibited in many of the world's leading museums, galleries and art institutions.

Kevin Abosch – Dassai – Asahi Shuzo – Creative Work Studios
Embracing innovation, Asahi Shuzo has combined the highest level of traditional craftsmanship with detailed technological insights for this initiative, enabling them to produce sake of unprecedented sophistication. Using complex and precision data, in tandem with the extraordinary skill and experience of their workforce, they manage and monitor the development of their sake at every stage of the brewing process to create a truly best-in-class product.
Kevin Abosch – Dassai – Asahi Shuzo – Creative Work Studios
Kevin Abosch – Dassai – Asahi Shuzo – Creative Work Studios
However, technology alone cannot produce great sake. Where many of their competitors use mass automation in their manufacturing processes, Asahi Shuzo understands the importance of craftsmanship and the human touch. Their sake is made in small batches to maintain quality, and much of the brewing process is still done by hand, including washing the rice and separating each grain before fermentation. It is this attention to detail and dedication to quality that has led to products with an unmatched taste.
Kevin Abosch – Dassai – Asahi Shuzo – Creative Work Studios
J.Harry Edmiston, said, "We curate and empower artists with the brands we work with, in turn building a community of creators and collectors who share similar values ​​to support each other. We are a community built on a shared desire to provide precious, meaningful and impactful projects that push boundaries, restore and set a precedent of artistic integrity that we believe should be universally ambitious. This collaboration is exactly that. "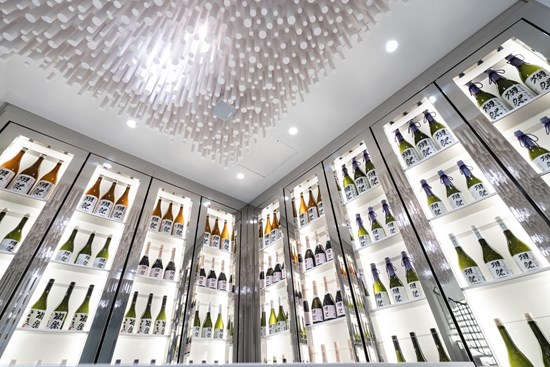 Kevin Abosch – Dassai – Asahi Shuzo – Creative Work Studios
For those interested in the project, the artwork and its launch, please get in touch for more information.
PRESS CONTACT ::
+44 (0) 7453 641 824
[email protected]
About Kevin Abosch
Kevin Abosch, born in 1969 in Los Angeles, he is an Irish conceptual artist known for his works in the fields of photography, sculpture and film. Abosch's work addresses the nature of identity and value by asking ontological questions and answering sociological dilemmas. His work has been exhibited around the world, often in civic spaces, including The Hermitage Museum, Saint Petersburg, The National Museum of China, The National Gallery of Ireland, Jeu de Paume (Paris), The Irish Museum of Modern Art, The Museum of Contemporary Art Vojvodina, The Bogot Museum of Modern Art, ZKM (Zentrum für Kunst und Medien) and Dublin Airport.
Dassai is a series of sake produced by Asahi Shuzo, a brewery based in Yamaguchi Prefecture, in the south of Honshu, the main island of Japan. The name 'Dassai' reflects the ancient name of this region of Japan. The brewery's philosophy is based on avoiding complacency to ensure that existing techniques are constantly reformed and revolutionized Asahi Shuzo prides itself on making sake all year round, which is often unknown in the sake industry, using only the best quality of Yamada Nishiki rice in their range of sake. Dassai is crafted using a careful combination of tradition and cutting-edge technology. At Asahi Shuzo, they have come to use what works and have left behind what doesn't, choosing what their experience dictates is the best from both the old world and the new.
To view the source version of this press release, please visit