didier faustino builds a bright artist's studio in the french countryside
grouped volumes open with inclined skylights
The architect Didier Fiuza Faustino creates an artist's studio in a rural area France, in search of an architecture that is at the same time harmless and 'absolutely unmissable'. Located outside the northwestern village of Saint-Langis-lès-Mortagne, the project is designed for the French conceptual artist Jean-Luc Moulène and marks the continuation of the architect's experimental investigation into "centering the body within all the worries of an architect today ".
The work features 365 square meters (nearly 4,000 square feet). study space, taking shape as a set of identical volumes. These massive shapes are organized "in constant offset" and wrapped in a black rubber skin. The architect observes that architecture is «intentionally in dialogue with the bodies that inhabit its space in the first place; the second with the Norman nature that surrounds it. '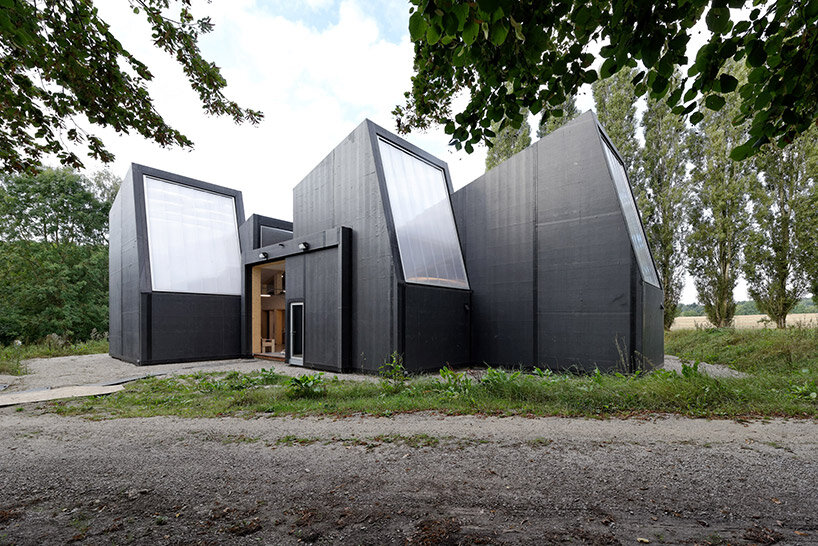 images © David Boureau | @ urbanmutability
learn from the habits of an artist
Didier Fiuza Faustino's artist's Atelier comes to life near an ancient agricultural complex in the French countryside. The high studio serves as a spacious new outpost for the artist outside Paris.
The architect describes the routine and habits of his client, who had informed the design of the space: 'Every moment of the day Jean-Luc changes his activity: from six to eight he draws, from nine onwards he creates models, and so on. His activity is a sort of choreography, from one moment to the next. So my point was to create a space that would allow him to adapt his trajectories according to his needs. '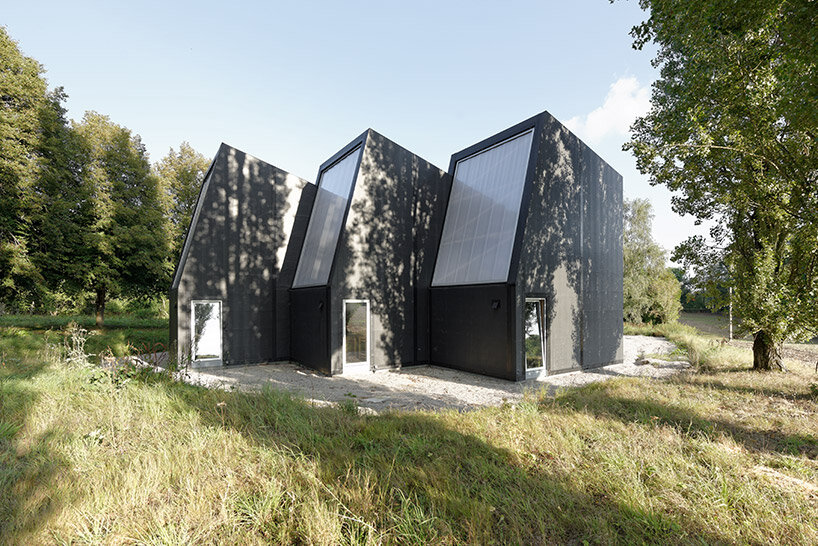 The use of Didier Fiuza Faustino's scale
While conceptualizing the artist's Atelier to meet the client's needs, Didier Fiuza Faustino develops a precise and minimal language "around gesture, work and creation". This involves the various modes of production of the artist, the use of his tools and the scale of both the hand and the machine.
High and open spaces interact with more intimate spaces for rest and reflection. All are illuminated with different lighting methods, both natural and artificial, and all create unique perspectives of the space. The architect comments: 'At night, the structure and its open windows are almost reminiscent of a collection of solar panels, referencing its external gaze and environmental approach inside.. '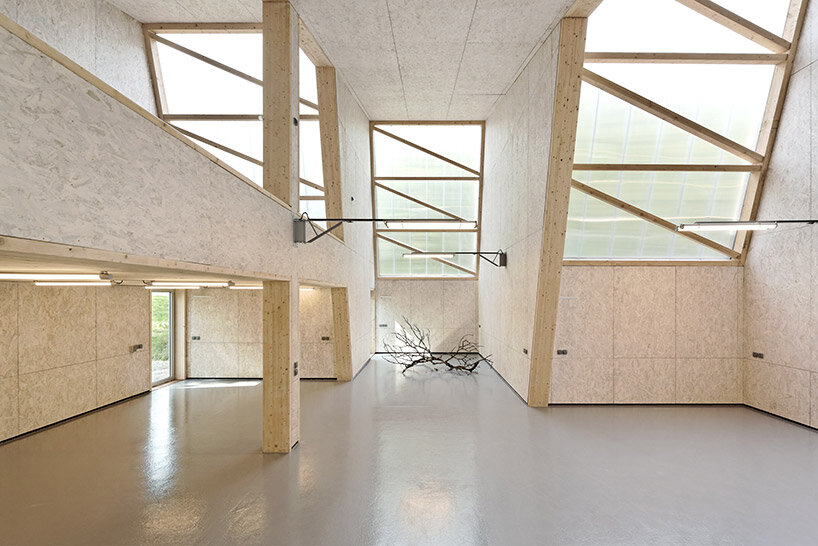 layout and construction
The set of identical volumes is spread over five parallel bays, each four meters (thirteen feet) wide. Each volume is truncated to create a sloping, translucent facade. Inside, the atelier is organized as a large open space of 265 square meters (2,850 square feet), while the mezzanines introduce an additional 100 square meters (approximately 1,100 square feet) of studio.
Didier Fiuza Faustino creates prefabricated caisson walls and roofs with a wooden structure fixed to a reinforced concrete slab, all finished with a waterproof black rubber membrane. The team comments: 'This uniform matte black skin turns the building into a shadow, making it disappear into its environment like a building not meant to be seen; only used. The structure is reduced to the essential, in this case referring to a definitive place for creative practice. '