Global producer price inflation cools to a one-and-a-half-year low
According to the latest JPMorgan Manufacturing Purchasing Managers' Index™ (PMI™) compiled by S&P Global, inflationary pressures in the worldwide factory sector eased to a one-and-a-half-year low in July. The reduced rate of increase primarily reflects the easing of global supply chain constraints associated with weakening demand for raw materials and destocking.
However, the overall rate of inflation, indexed to both input costs and average selling prices, remained high, due to an unprecedented broad-based rise in wage pressures and continued upward pressure on costs resulting from higher energy and transport costs.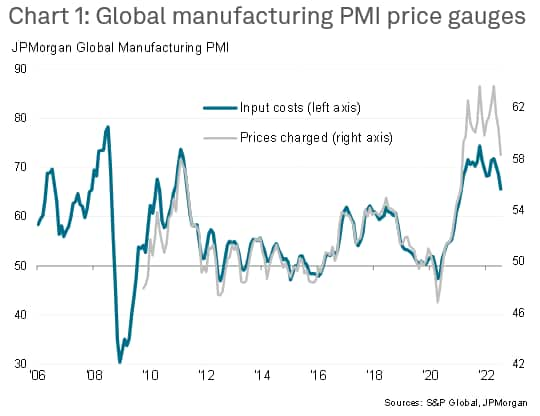 Price pressure is moderate
July's PMI surveys showed average prices charged for goods rose at the slowest rate worldwide since February 2021, with inflation cooling from April's all-time high for the third consecutive month.
Rates of selling price inflation fell sharply in the US, eurozone and UK, which have all seen particularly steep price rises in the past two years, falling to rates not seen since early 2021. Inflation rates have slowed on average across Asia, although only very modestly in Japan, where a weaker yen has pushed up import costs. In mainland China, selling prices fell for a third consecutive month in July, widely blamed by factories on a weak demand environment.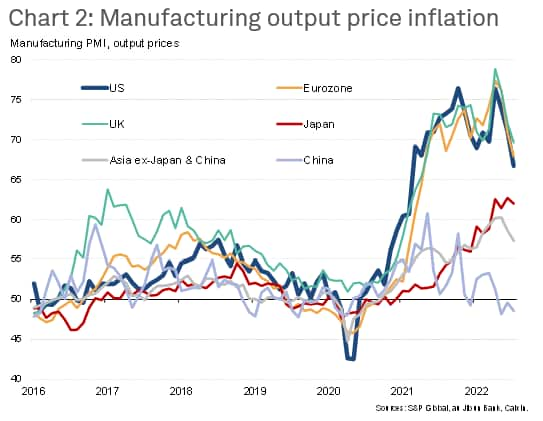 Further moderation of input cost pressures is key to the slower rate of selling price inflation. Globally, average prices paid for inputs by factories rose at the slowest rate since February 2021, with moderate rates of increase in all major economies except Japan, mainly reflecting recent exchange rate depreciation.
The lower rate of input cost inflation is partly due to the easing of global supply chain constraints. On average, supplier delivery times continue to lengthen in July, although the incidence of delays has decreased since November 2020.
Delays are the highest in the US, but – as evidenced in Europe – have decreased significantly since the beginning of the year. Mainland China has seen fewer delays, with delivery times increasing slightly over the past two months.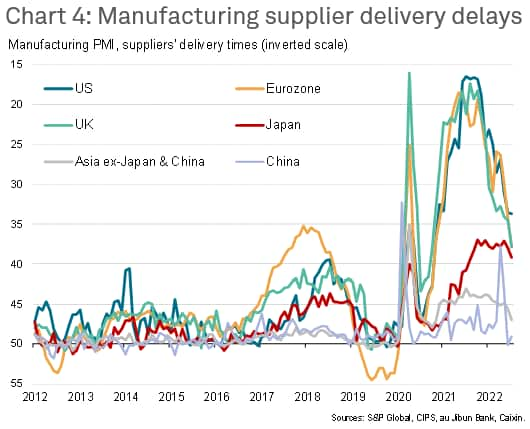 Falling demand will help offset industrial price pressures
The lower number of supply delays is related to lower demand for raw materials from manufacturers, fueled by a decline in new orders received by factories. The volume of inputs purchased by manufacturers worldwide rose only slightly in July, showing a small expansion in purchases over the past two years. New orders received by manufacturers meanwhile fell in July for the first time since June 2020, during the initial pandemic lockdowns.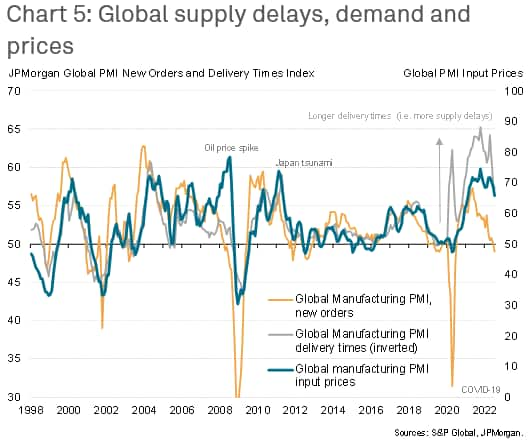 Much of the decline in demand reflects weaker final sales to consumers and business customers, while demand has weakened amid heightened concerns over near-term supply chain resilience and the economic outlook as more companies deliberately liquidate their inventory holdings. (See our accompanying note on manufacturing production and demand). The number of manufacturers reporting lower inflow of orders due to customer destocking rose to the second highest on record in July.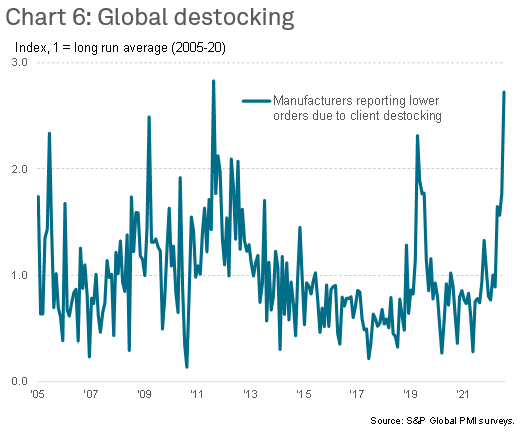 Wage pressures at record highs
Moderate demand and supply imbalances mean fewer companies are now citing higher raw material prices as the main driver of higher cost pressures. However, as Chart 7 illustrates, the number of companies reporting higher energy, shipping and wage costs remained stubbornly high, especially in the case of wages, where July saw a record number of companies reporting upward pressure from rising salary costs.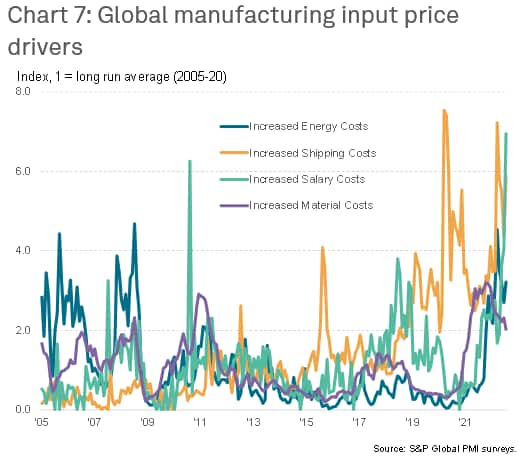 Thus, while input cost pressures have eased in recent months amid an improving demand-supply balance, the rate of inflation has remained elevated thanks to rising fuel costs, rising transport costs and rising broad-based uptick in wage pressures.
Chris Williamson, Chief Business Economist, S&P Global Market Intelligence
Tel: +44 207 260 2329
© 2022, IHS Markit Inc. All rights reserved. Reproduction in whole or in part without permission is prohibited.
Purchasing Managers' Index™ (PMI™) data is compiled by IHS Markit for more than 40 economies around the world. The monthly data is derived from surveys of senior executives in private sector companies and is available by subscription only. The PMI dataset includes a headline number that indicates the overall health of the economy and sub-indices that provide insights into other key economic drivers such as GDP, inflation, exports, capacity utilization, employment and inventories. Finance and corporate professionals use PMI data to better understand where economies and markets are headed and uncover opportunities.
Learn more about PMI data
Request a demo
---
This article is published by S&P Global Market Intelligence and not by S&P Global Ratings, a separately managed division of S&P Global.