Natural gas prices fall in June amid tussle over summer demand, Freeport shutdown
The first report about the impact on storage from the Freeport LNG blast three weeks ago told us what we already suspected: It wouldn't be pretty—just like the June market loss for Natty.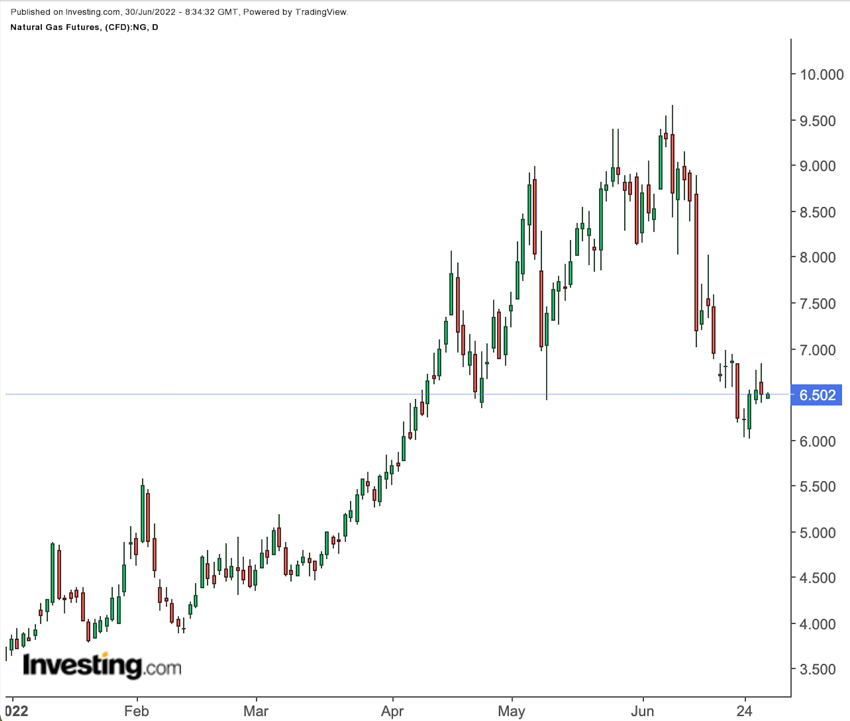 The Energy Information Administration said production rose 74 billion cubic feet (bcf) in the week ended June 17, and market expectations for construction in the 60s.
As trade awaits the storage update for the week of June 24—from the EIA at 10:30 AM ET today—price screens show the front-month gas contract at New York's Henry Hub is up nearly 20% in June. It was the first monthly loss in four months in natural gas and the biggest since January.
A loss at Henry Hub is unlikely to give bulls much sleep in the game, given near-term forecasts for gas demand.
Not expected to be much of a worry about gas storage—or, more importantly, the lack of it—a substantial portion of the non-liquefied gas at Freeport is likely to be burned off to cool off this summer's heat surge. In other words, the storage load from Freeport is more manageable than one might think.
Forecaster NatGasWeather said weather patterns for the first half of July maintained a hot pattern across the southern two-thirds of the United States, with highs forecast at 90F to 100F.
"It's still a bullish pattern for July 10-13, not as hot as July 1-9," NatGasWeather said in comments carried by industry portal naturalgasintel.com.
"Overall, the next 15 days will be quite hot as it will prevent deficits from improving."
But some feel that the summer heat may not make much of a dent on the storage.
"In the longer term, storage shortages are expected to narrow to the five-year average as the effects of Freeport (and higher production down the line) ease the tightness in the market," analysts at Houston-based gas markets consultancy Gelber & Associates said in an email to clients on Wednesday, which also saw Investing.com.
Gelber adds the email:
"Over the next four weeks, the storage deficit (over 300+ bcf) is expected to dip below 280 bcf based on current weather patterns."
A widely expected shortfall of 300 bcf or more in five-year average gas storage is one reason why commodity prices are now about 75% above prices a year ago. Europe's embargo on Russian gas following Moscow's invasion of Ukraine has led to unprecedented demand for liquefied natural gas from Europe.
The challenge for the market is to predict what demand for cooling gas will be in the summer and how much Freeport will offset by not liquefying.
Freeport accounts for about 20% of all US LNG processing, liquefying 2.1 billion cubic feet of natural gas per day.
Initially, after the shutdown of a plant on the Texas Gulf Coast on June 9, the shutdown was estimated to take just under one million tons of LNG exports off the market. But then, the disruption is estimated to last three months, affecting at least 180 bcf of gas in total.
Analysts say the final number will equate to about 55% of the current storage shortfall, given how hot the United States and Europe are in the summer and how much domestic cooling and European LNG demand will lead to.
Before the Freeport incident, gas had reached a nearly 14-year high of $9 per million metric British thermal units (MMBTU). At the time of writing, it was below $6.50 per mmBtu after falling to around $6 on Friday. Almost all of June's 20% plunge in the Henry Hub is due to the so-called Freeport effect.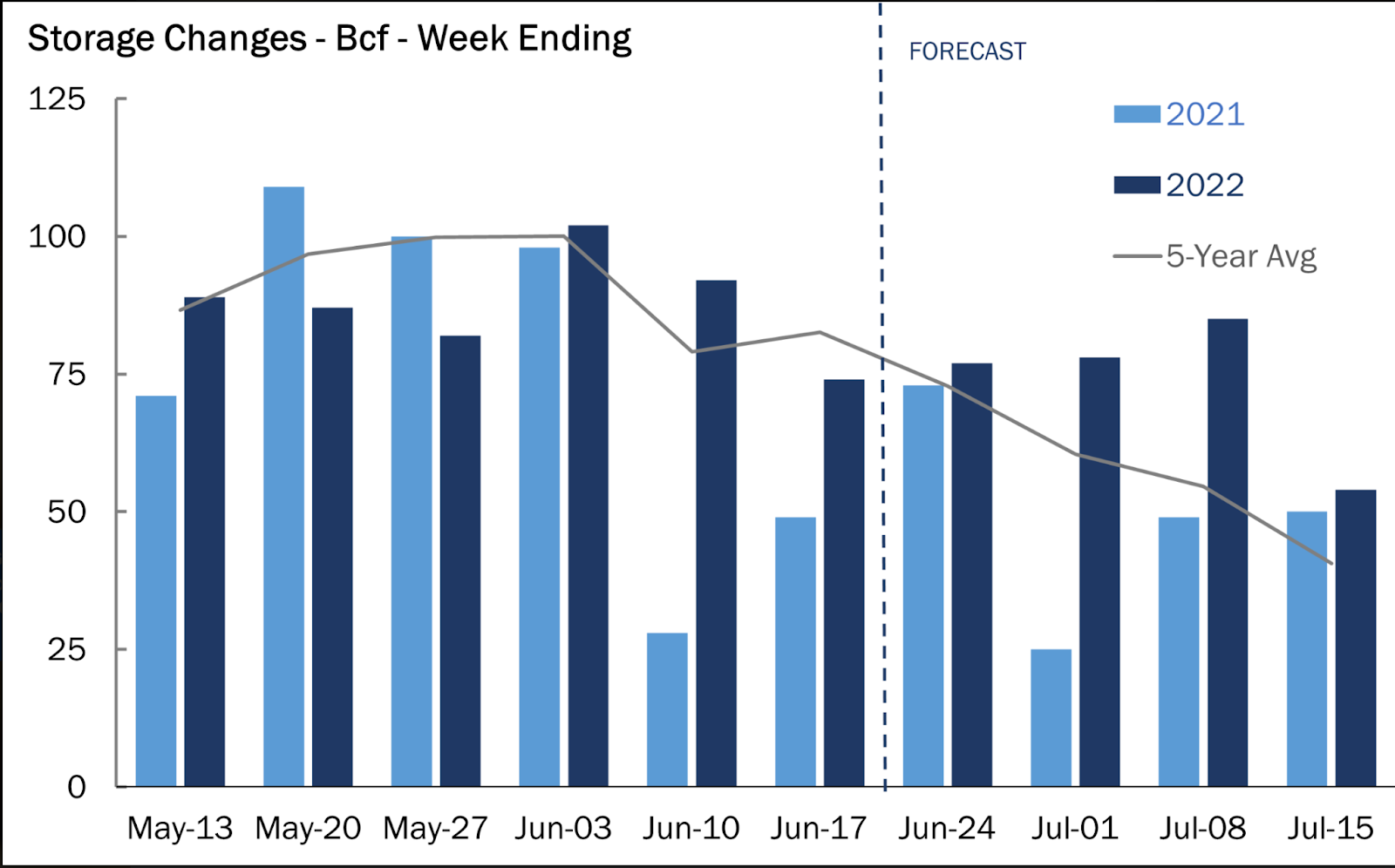 Source: Gelber & Associates
In today's guessing game covering the week ending June 24, forecasters have tracked Investing.com Another 74 bcf is estimated to have been injected last week, similar to the previous week.
If that's accurate, it's slightly above the 73 bcf build seen in the same week a year ago, and the five-year (2017-2021) average of storage injections, which is also at 73 bcf.
Such injections would lift gas storage to 2.243 trillion cubic feet (tcf), about 12.8% below the five-year average and 11.9% below the same week a year ago.
Reuters-related data provider Refinitiv said there were about 81 cooling degree days last week, well below the 30-year normal of 71 degrees for the period.
CDDs, used to estimate demand for cooling homes and businesses, measure the number of degrees above 65 degrees Fahrenheit during a day's average temperature.
Disclaimer: Barani Krishnan uses his own outside perspectives to bring variety to any market analysis. For neutrality, they sometimes present contrasting views and market variables. They do not hold positions in the commodities and securities they write.