"Freedom comes to those who fight, but not to those who cry, because the more you cry, the more your people continue to die, so stand up and defend your rights!"
With these lines from her song "Time Bomb", Bobi Wine opened a panel this week at the invitation of DW culture editors in the framework of the annual Global Media Forum.
In his native Uganda, Wine could end up in jail for that statement. Since 2018, Robert Ssentamu Kyagulanyi, which is her real name, has been listed as an "abolished artist" in Uganda.
"I shouldn't be hosting a concert and my music shouldn't be on the radio or TV either," he said.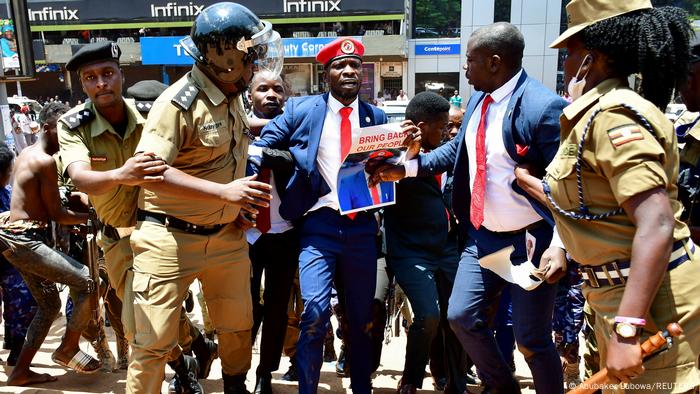 Bobi Wine has been arrested over and over in Uganda
Active in politics since 2017, Bobi Wine is a thorn in the side of the Ugandan government. He opposes President Yoweri Museveni, who has ruled for the past 36 years. In 2021, Wine ran for president despite attempts at intimidation: in recent years Wine has been repeatedly arrested and tortured.
He lost the election and he and his family were placed under house arrest for months. The fact that he is still alive could be due to the fact that the government wants to keep up appearances, at least to the international community, that opposition is possible.
But Wine doesn't want to leave his country, because "it would be a betrayal, a betrayal of myself and my people. And it wouldn't make any practical sense in the end," he told DW. "The tyrants who rule some countries in Africa have the power."
Should activists go into exile?
Stella Gaitano, a writer from neighboring South Sudan, decided to go into exile. She too has been repeatedly persecuted and arrested for writing texts denouncing the warmongers in her region.
The Sudanese-born author participated in protests against former strongman and autocrat Omar al-Bashir, who was overthrown by the military in 2019. She is also involved in various NGOs that provide food donations to refugees and displaced persons, as well as books.
Change needs education, he said.
"Dreaming of countries is not enough. We have to work and we have to build ourselves first, so we can build our countries."
Gaitano prepared his children for the possibility that one day he would have to flee. "This made me strong and this made them strong," said the author, who has lived in the city of Kamen in the West German state of North Rhine-Westphalia since March 2022. She is a member of the PEN Writers-in-Exile writers' association, but with her ex-husband in Sudan, her three children are waiting for a visa to join her mother.
Ike Nnaebue from Nigeria wanted to leave his homeland over 20 years ago to seek his fortune in Europe. He had already arrived as far as Mali when the tales of the dangers of the journey made him change his mind. Today, Nnaebue is a celebrated Nigerian director. His documentary "No U-Turn" received a special mention at the Berlin Film Festival this year.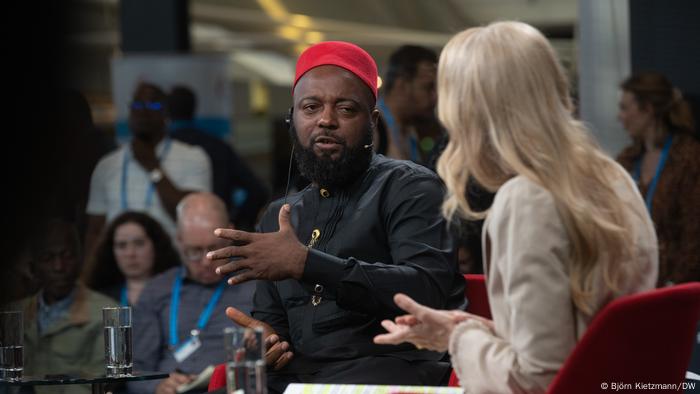 Nigerian director Ike Nnaebue
"As artists, we have a great responsibility," he told DW. "Part of our job is to give society a mirror and point it in the right direction."
"The work for us as creatives from Africa, West Africa and especially Nigeria is to show what is possible, to show that people can dream wherever they are," he said.
He believes this is a good time for filmmakers in Nigeria as people want to hear about "everyday heroes of everyday life … stories that show people's magic".
Roadside artwork
Angele Etoundi Essamba, a Cameroonian photographer, also captures this magic.
"I wanted to break all the stereotypes surrounding the representation of not only Africa but African women," said Essamba, whose works are added to the permanent collection of the Museum of Modern Art in New York.
Essamba is convinced that art can lead to change. Over the past 20 years, she says, African art has become increasingly in demand, which has clearly benefited artists as well.
"It's a really great time for African artists," said Akinbode Akinbiyi, a British-Nigerian photographer, adding that "from the continent, things are really moving forward". Settled in Berlin, Akinbiyi regularly travels to Africa to give seminars. Be passionate about what you do – this is the advice he gives young students.
Passion is something none of the five guests gathered for the DW panel lacked. Faced with censorship, conflicts and a lack of financial resources, they are convinced that, thanks to art, social change is possible.
"Art is a soft power", said Stella Gaitano.
This article was originally written in German.