What the artist Chintan Upadhyay did in Anda Cell
After spending nearly six years in prison for the alleged murder of his estranged wife artist Hema Upadhyay and his lawyer Haresh Bhambhani, when artist Chintan Upadhyay left Thane Central Prison on bail in September 2021, he had hundreds of works of art that needed to be transported. "It's not a cohesive body of works, but my recordings, which include sketches that could propel future works. If it weren't for art, I don't know what I would have done, "says Upadhyay, 49, from his home studio in Navi Mumbai.
Buy now | Our best subscription plan now has a special price
It distinctly recalls the events of 11 December 2015, when the bodies of Hema and Bhambhani were found in the suburb of Kandivali, north of Mumbai. Upadhyay was in Delhi, where he had moved in 2011. Preparations were underway for his exhibition which was to be held in February 2016 in Vadodarawhere Upadhyay would unveil two years of work with the series entitled Gandi Baat, which includes caricatures of men, women and children and addresses topics of aggressive male gaze, offensive gestures and moral police, among others.
With his arrest a few days after the murder, the exhibition was canceled and the artist found himself in prison. "For the first two months I was in a cell with over 400 people. It is certainly painful and difficult to be there, away from friends and family. It's a tense atmosphere and there's constant fear, "Upadhyay says.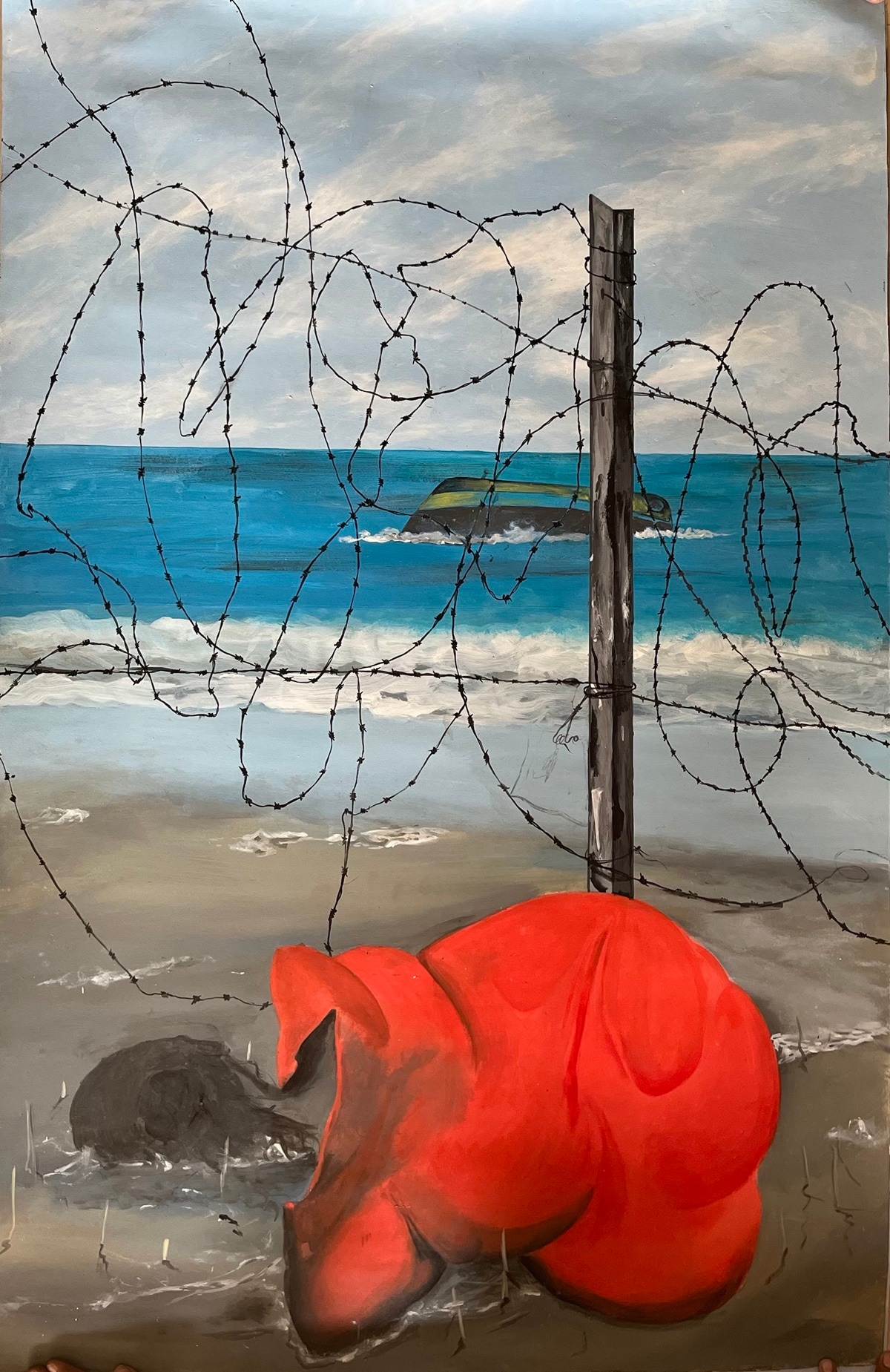 'A dream for better life (dreamopia)', 2017-18, acrylic on paper. (Credit: Chintan Upadhyay)
It took some stimulation from the then superintendent of the prison for the artist to pick up the paintbrush again, when asked to do the preparatory drawings for a mural depicting life in prison: the scene included inmates cooking, cleaning, working in karkhanas, playing board games, volleyball and so on . A few months later, he made his first acrylic on paper in prison: a deformed elephant with elongated legs, which hatches from four eggs. "I don't remember how the painting began, but maybe the eggs suggested the name of my prison cell, Anda's cell. The elephant is struggling to find his feet and move forward with his brittle legs erupting from the hatched eggs. He is trying to gather strength. The work also describes what I felt at the time, "says Upadhyay. Displayed as part of the" Art from Behind Bars "initiative (by the NGO Dagar Pathway Trust) in Mumbai in 2017, it was bought by director Kiran Rao for Rs 4 , 5 lakh. "I donated the proceeds to the Prisoner Welfare Fund. In a way, the sale sparked curiosity within the prison. Earlier, some people had approached me and told me they saw my work. Many knew about the installation at Nariman Point (City of Dream), "he says.
Soon, he managed to set up his own workspace in prison. While the prison authorities provided basic supplies, he could provide other supplies. Like the public for his art has grown, has also started attending seminars, followed by regular art courses since 2019, where he has taught 25-30 students at a time. "The goal was to involve them and broaden their perspective. I would encourage them to imagine and analyze their situation and their surroundings through art. To increase their confidence, I also allowed them to make small interventions in my larger works, "says the artist.
Many of his students and other prisoners in the trial also became his protagonists for the charcoal portraits in the newspapers he sketched during the Covid months. "At the time it was difficult to get material and we made the most of what we had. These portraits have a profound meaning: they share the stories of these men and reflect on their different backgrounds and ideologies, "adds Upadhyay. In the coming months, he hopes to bring together nearly 500 of these portraits in a single installation, sharing a common space, similar to how they lived in prison.
"They Are Us", a collaborative installation with the prison community. (Credit: Chintan Upadhyay)
***
Son of Jaipur artist Vidyasagar Upadhyay, it was while he was graduating in science and preparing to study architecture when Upadhyay decided to drop out and study art. Known to impress with his works of him in recent years, even in his last year showcase in 1997 at MS University, Baroda, he has created a furore with his large phallus-shaped soft toys. "Was a comment on patriarchal society and the preference for the male child, "he says.
It was also at MSU that Upadhyay met classmate Hema. Their college romance led to marriage in 1998. The couple moved to Mumbai soon after and their careers gradually began to blossom. Although their individual paths as artists were divergent, the two worked on multiple collaborative projects, including the 2003 exhibition "Made in China" where they transformed Chemould Art Gallery in Mumbai in a museum of Chinese products available on Indian streets. By this time, the two had already gained recognition as renowned artists. In 2002, Upadhyay's "Commemorative Stamps" exhibition at Ashish Balram Nagpal Gallery in Mumbai was applauded for depictions representing new wealth in India. In 2005, he stunned his audience by protesting the Gujarat riots by sitting naked as part of the show Baar Baar, Har Baar, Kitni Baar?, In which viewers were asked to apply turmeric to his body as a gesture of compassion.
The children who would become his trademark were born in 2003, with the "Designer Babies" exhibition. Over the years he has modified them to suit different sizes, mediums and hybrid shapes. He painted them with various motifs and used them to address a variety of issues, such as manipulative society, female infanticide, censorship and social commodification. "These babies were designed to never grow up, but they changed shape and evolved over time. I gave them unique identities through their skin, painting miniatures and manga models and sometimes even using text, "says Upadhyay.
The recognition came in the form of opportunity and commercial success. Passionate about artistic events, his works have achieved astronomical prices in international auctions. In 2007, he set a personal best when his New Indians installation sold for $ 529,000 at a Sotheby's auction.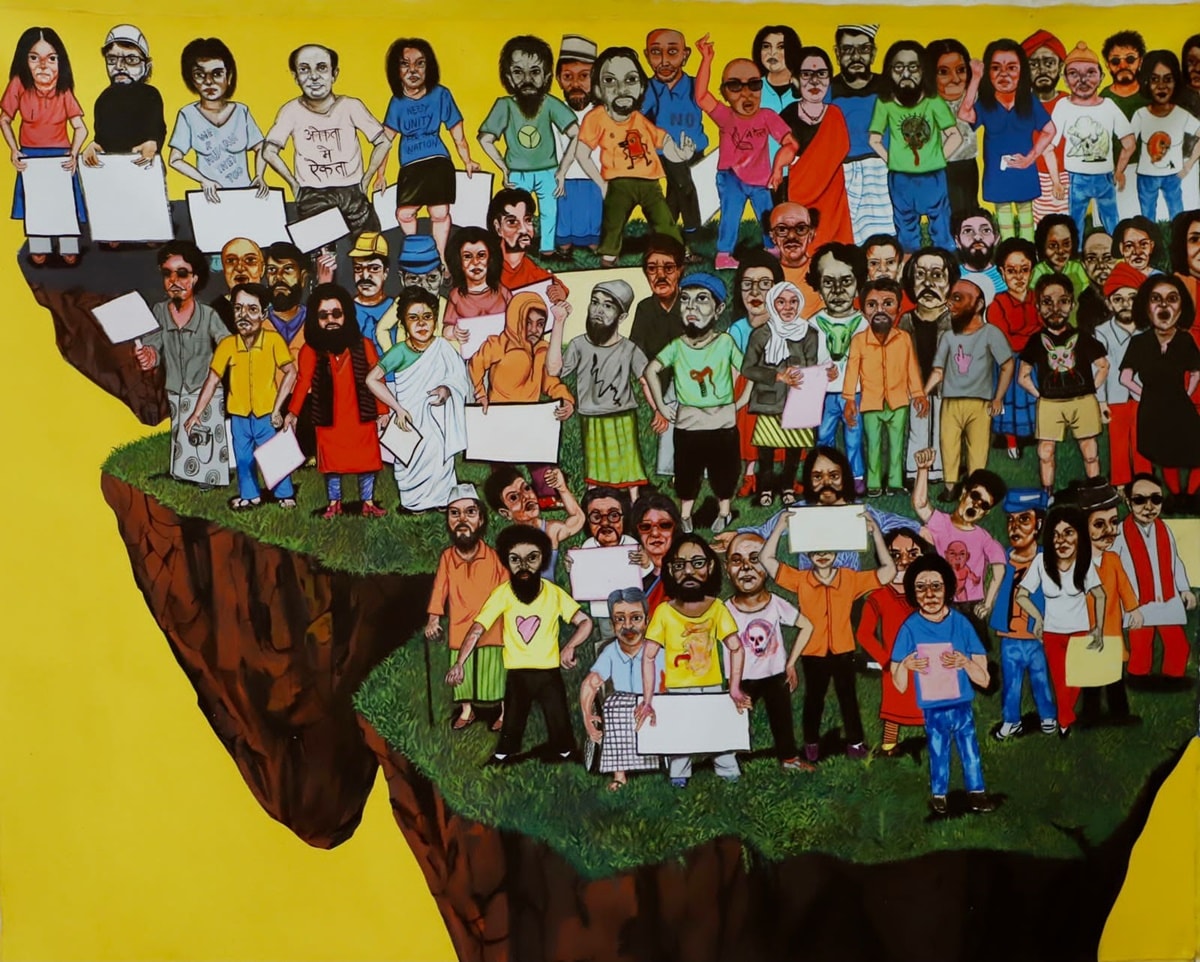 A work by Chintan Upadhyay (Credit: Chintan Upadhyay)
***
As he unwraps his works of art made in recent years, each work reminds him of moments in prison. He believes it would be enough for multiple exhibits, but he doesn't have the bandwidth to put them together. "At the moment, I'm still struggling to get into the rhythm to focus and work," he says. Created for a long duration, he notes that the subjects are far-reaching: from a Mutatis Mutandis project based on Marathi writer Sanjeev Khandekar's poems that delve into mutation, to the black and white stripes of the prison uniforms that blend with red on 8 × 10 foot canvases. Stories of migrants losing lives while trying to flee war-torn countries have led to a series of torrid wave jobs by the sea. "There is a constant struggle between 'us' and 'them', what we don't realize is that violence will not get humanity anywhere".
Newspapers became a window to the outside world as he continued to respond to socio-political developments, often pasting headlines of interest into his album, which was also a visual diary in which he scribbled and jotted down notes. When the debate on nationalism raged in the country, Upadhyay was reading Rabindranath Tagore's Nationalism, a compendium of lectures on Nobel Prize nationalism. "I was interested in exploring how nationalism was viewed before we achieved independence. I had read snippets of Tagore's lectures and asked a friend to organize the book, "he says. The following drawings focus on the keywords from by Tagore conferences, such as "India", "Nation" and "Political", and Upadhyay hopes to scan them and put them together in a composite print that would be painting Over.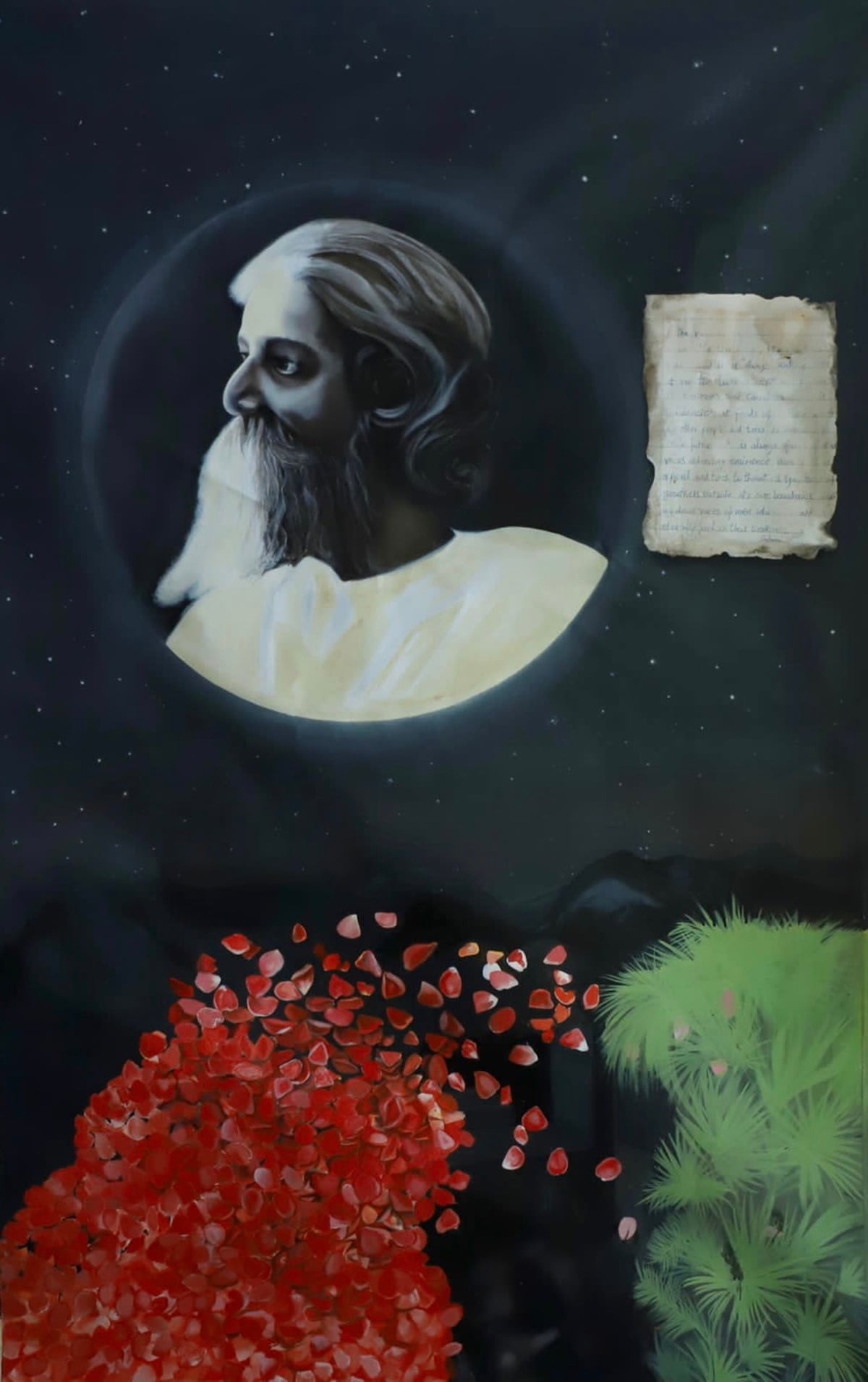 "Nation, national and human", acrylic and oil on canvas, 6 × 4 feet (Credit: Chintan Upadhyay)
He is not allowed to visit Mumbai and is required to report to the local police station at his place of residence on the first day of each month, as he adjusts to life outside the prison, supporting are new friends and old. The inmates he trained in art contacted him to continue with the lessons. "Many of them are now out and have contacted me with a desire to learn the art. Some of them are now my study assistants. Art has the ability to connect, "says Upadhyay. Meanwhile, despite having followed the work of friends, visits to art galleries are still counted." I want to see art and what everyone is doing, but I'm not in one yet mood for socializing or relocating a lot. It was wonderful to see art in person and meet friends at the India Art Fair in Delhi last month, but honestly, I was also a bit lost. A lot has changed, "she says. the artist.