NEWS | FEATURES | PREVIEWS | EVENTS
originally published: 06/20/2022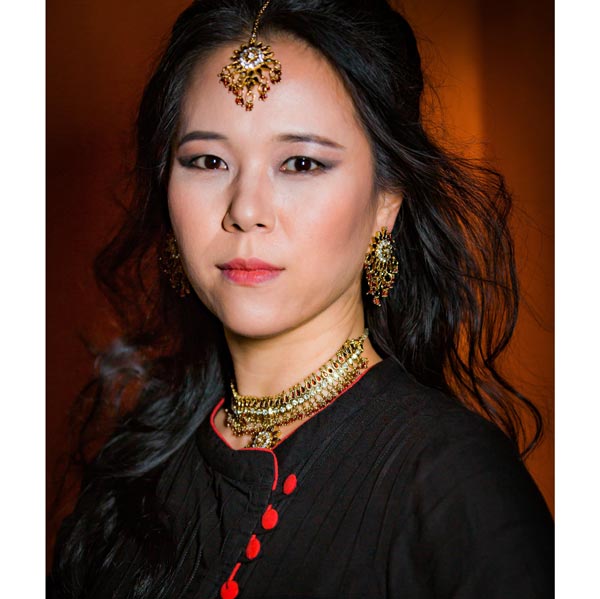 (NEW BRUNSWICK, NJ) – Desi Rainbow Parents and Allies together with coLAB Arts celebrate Pride Month by honoring the Desi Rainbow Community with an original dance piece created by artist Kathak Joungjin Won and directed by Professor Yong-Suk Yoo of Texas State University, to be performed at the historic New Jersey State Theater in New Brunswick Saturday 25 June 2022 at 7pm.
Inspired by the motif of the transformation process of the cocoon into a butterfly, the interdisciplinary live performance titled "The Butterfly's Dream" suggests a personal rite of passage through self-realization and enlightenment by integrating Kathak dance, sound collage and theatrical storytelling with a flavor of the aesthetics of Korean shamanism.
The 30-minute live dance performance will be followed by a question and answer session with the artist and a light snack. Additionally, an expert panel discussion on the intersections between AAPI and LGBTQ + advocacy in the State of NJ will be held shortly after. Funding for the grant was provided by the Middlesex County Council of Commissioners through a grant from the Middlesex County Culture and Arts Trust Fund.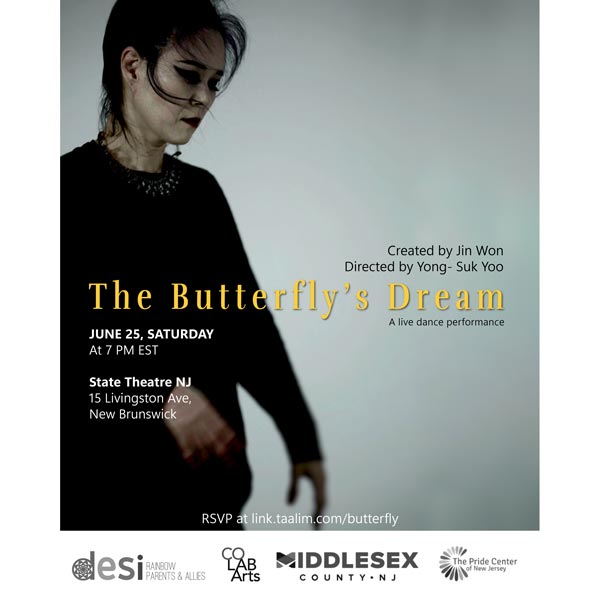 Tickets: This is a free event with limited seats; RSVP here. The State Theater New Jersey is located at 15 Livingston Avenue in New Brunswick, New Jersey.
Jin Won (Choreographer) – Praised by the NY Times as "an exuberant dancer whose musicality is transformed[s] her dance into something primal, "dancer and percussionist Jin Won is a unique artist in the Indian performing arts who explores the sonic and visual possibilities of rhythm through dance and music.
A skilled Kathak dancer and tabla player of South Korean descent, she spent over 15 years in India training in classical Indian percussion and dance under the guidance of "Guruji" Pandit Divyang Vakil and Smt. Shubha Desai, respectively. During these artistically formative years, lei Jin began working with renowned Indian choreographers, established herself as a solo dancer and performed internationally in countries such as Belgium, Canada and Korea.
While equally adept in traditional and contemporary presentations of Kathak and Tabla, Won's latest efforts are explorations of rhythm as a unifier across cultural expressions. Since she moved to the United States in 2011, Jin has collaborated with traditional Korean and Arab artists and incorporated a multitude of percussion instruments from around the world into her work.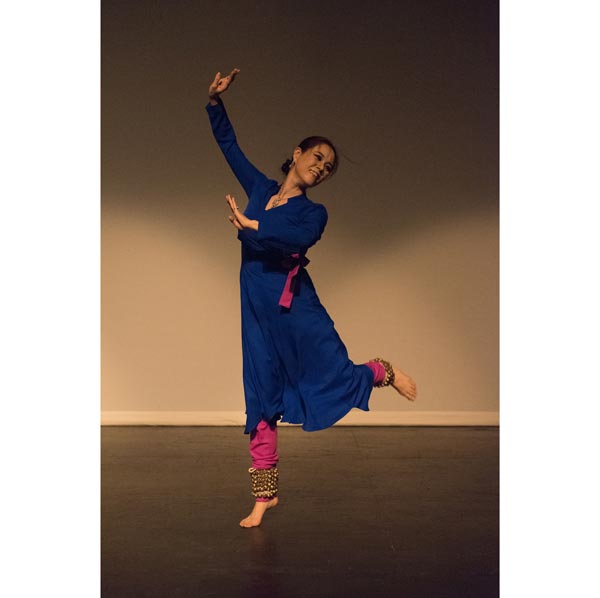 In 2013, Jin and his Guru Pandit Divyang Vakil collaborated on an experimental Kathak production with world percussion focusing on rhythm as the primary expressive modality. Entitled Pradhanica, which translates as "female leader", this production highlights Jin's commanding presence as a solo dancer. Having debuted with great success at the Drive East Festival in New York, the prestigious Princeton Festival invited Jin to present Pradhanica as their first venture outside the realm of the Western classical tradition. Coinciding with the festival, NJ PBS released a short documentary about Jin's life and artistic journey with her team.
Named after his debut work, Jin founded the "Pradhanica Dance and Music Company" in 2018 to host his growing repertoire of projects and choreography.
His latest work includes 2 dance films: Willow, commissioned in 2021 by the World Music Institute; WMI for their annual festival "Dancing the Gods" and Beyond the Seas, selected for presentation at the "Women in Dance" conference to be held in Chicago in October 2022. Plus, her original 20-minute piece of contemporary dance was commissioned by the New Narrative Film Festival in Taipei, Taiwan as a closing finale.
Jin has performed in venues such as Battery Dance Festival (Battery Park, New York), Kennedy Center (Washington, DC), Symphony Space (NYC), and Lone Tree Arts Center (CO), among many others. He has also conducted master classes and workshops at arts institutions in the United States such as the University of Illinois, Middlesex County Cultural Arts and Heritage Commission (NJ), Quad City Arts (IL) and Darke County Center for the Arts (OH), Atrium of the Lincoln Center (NYC).
Yongsuk Yoo (conductor) is an international director and educator who focuses on interdisciplinary work and the integration of technology into the performing arts. His experimental work includes multimedia theatrical productions of When Spring Comes to Hills and Dales, Oedipus the King, immersive theatrical productions of A Dream Play and Love and Information, as well as the Korean premiere of White Rabbit, Red Rabbit by Nassim Sloeimanpour. He also wrote his own pieces, such as A Silent Table, which used live broadcast technology, immersive performance and four-sided holographic film projection mapping. He is currently assistant professor of directing at Texas State University and has been a lecturer at Daeduk University and Hanyang University in South Korea.
Advertise with New Jersey Internship for $ 50- $ 100 per month, click here for information
---